We're excited to announce that we have the Easyrig Vario 5 with Stabil arm and Easy Tilt Bar available for hire in Nottingham with delivery around the UK available on request.
Easyrig Vario 5 with Stabil arm and Easy Tilt bar
The Easyrig Vario 5 has an adjustable weight range from 5-17kg (11-38 lbs). By turning the adjustment screw located on the back, you can easily change the tension/power of the line.
The Easyrig Stabil was released at NAB in 2019, for years Easyrig users have been wanting us to build something that smooths out shots when walking. The Easyrig Stabil is incorporated into the Easyrig system to m…
We have been fans (and users of) the Vario 5's little brother, the minimax, for quite a few years now. The max weight on the minimax of 7kg can be limiting for usage with heavier rigs on gimbals though.
The Stabil Arm is an adjustable damper that smooths out walking motions, allowing for even smoother shots using the rig.
The Easy Tilt Bar is a new innovation from Easyrig that makes the usage of gimbals easier, allowing for the gimbal to be tilted back easily with the weight of the camera rig still being taken by the Easyrig.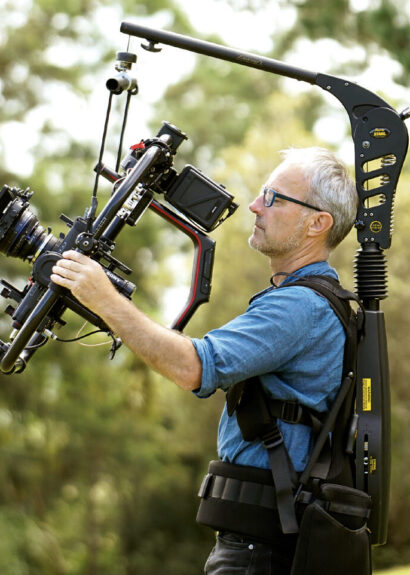 As Easyrig ambassadors, we can advise on which of our Easyrig setups best meets your requirements. We can also supply highly experienced gimbal operators using the full range of our equipment on request. Click the link below to see our full range of Easyrig Equipment available for hire.
Easyrig
As an Easyrig Ambassador, Cinehire can advise you on the perfect Easyrig setup for your requirements.